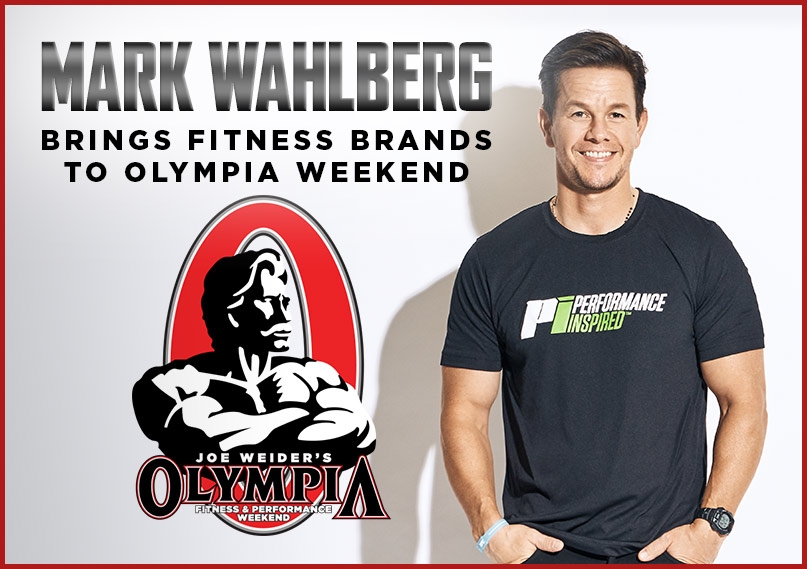 Mark Wahlberg Brings Fitness Brands to Olympia Weekend
The fitness industry's premier showcase event announces a promotional alliance with Mark Wahlberg, one of the world's biggest box office attractions.  Joe Weider's Olympia Fitness & Performance Weekend has identified the Academy Award nominated actor as one of the world's most influential fitness-minded personalities.
After launching Performance Inspired Nutrition, a successful line of all-natural, high performance, active lifestyle products with more than 50 product offerings, Wahlberg expanded his fitness portfolio by acquiring an ownership interest in F45 Training, a fitness franchise with more than 1500 studio locations in 40 countries.  In 2012 Wahlberg kickstarted his interest in the health sector when he secured an ownership interest in AQUAhydrate, the popular electrolyte infused purified water brand.    
"Mark is one of the world's most authentic voices of the fitness movement." Explains Dan Solomon, Chief Olympia Officer. "For as long as we can remember, Mark has dedicated himself to achieving the absolute best version of himself. His intense training regimen and his push to inspire others to be more active is legendary. Mark's level of dedication is exactly what the Olympia experience is all about."
Scheduled for the weekend of September 12-15 in Las Vegas, Olympia Weekend is a multifaceted event featuring the Olympia Fitness & Performance Expo, a gathering of the industry's most influential brands and fitness focused consumers, held at the Las Vegas Convention Center.  The weekend also includes the world-famous Mr. Olympia competition held at the Orleans Arena, an event that has expanded in recent years to include the Bikini Olympia, Fitness Olympia, Figure Olympia, Physique Olympia, and a series of major titles regarded as their sport's most coveted prize.  Wahlberg's Performance Inspired and F45 Training brands will be featured throughout the 4 day event.
"Olympia Weekend is an incredible tradition." Says Wahlberg. "If you attend the Olympia you'll leave with enough inspiration and energy to fuel an entire year of workouts and I'm excited to showcase my brands there. The Olympia has grown into something really special."
For tickets and exhibitor opportunities, visit mrolympia.com.

Mark Wahlberg Welcoming Fans at 2019 Olympia Expo!