Mr. Olympia Brandon Curry Begins European Tour
By Giles Thomas
Mr Olympia, bodybuilding's most prestigious title since 1965, has grown into something truly special. Held each September in Las Vegas, Olympia Weekend is now a massive production with thousands of fans from all over the world flocking to the Orleans Arena and the Las Vegas Convention Center to see the best physiques on the planet.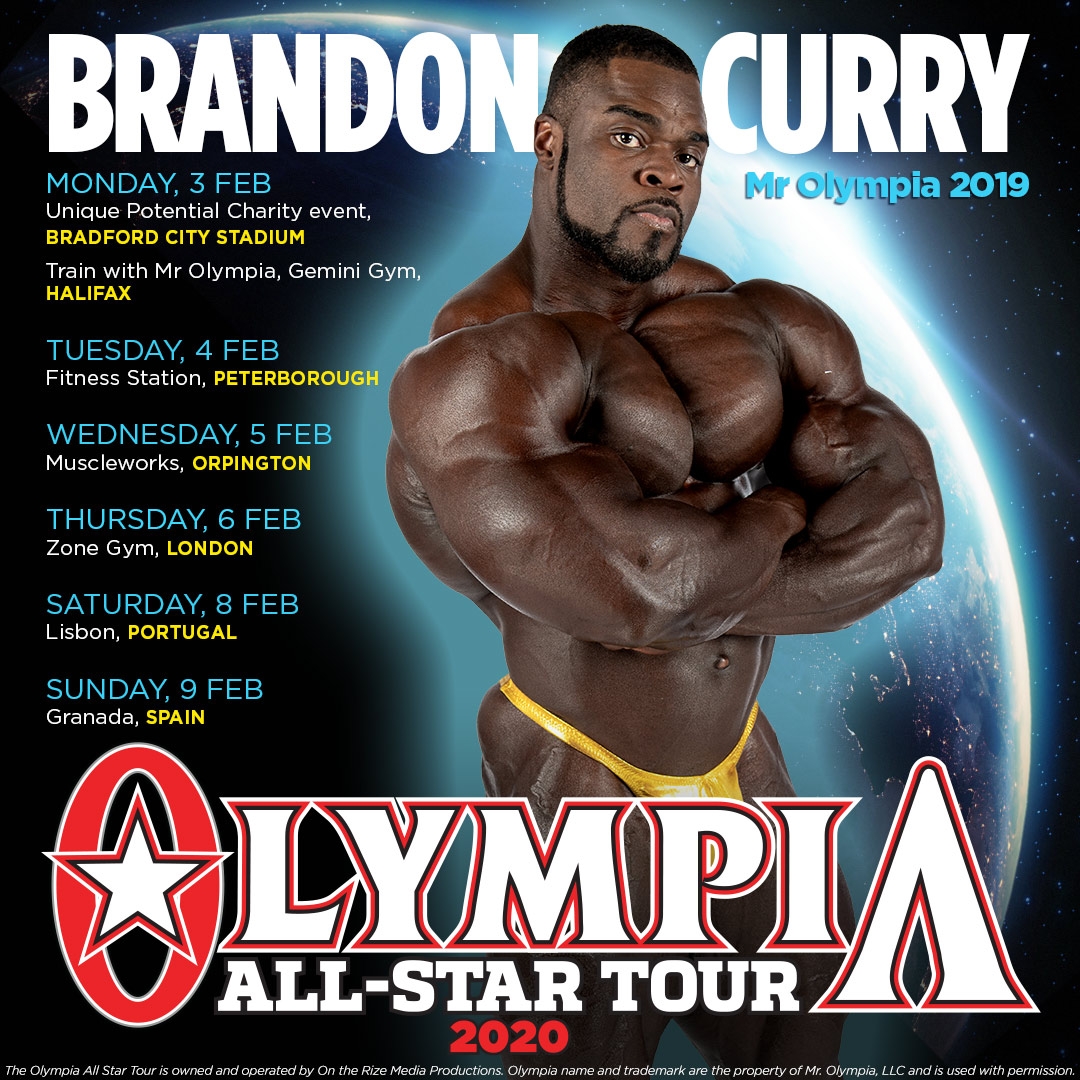 With that, the fans want to see their winner - not just on a phone screen or on a laptop - but up close and in person. Towards the end of 2019, I came up with the idea of bringing the reigning Mr. Olympia to fans all around the World. 
When I discussed the idea with Olympia boss Dan Solomon, we agreed that the best way to showcase the Olympia champions in the best light was to set up tours with these elite athletes. Seminars, charity events, public appearances - allowing fans full access to the best of the best was our way of achieving this.  So, Olympia All-Star Tours 2020 was born, our first in the UK and expanding into Europe with appearances by current Mr. Olympia Brandon Curry, and others to follow.
The first tour kicks off in the UK and begins with a charity event that will see Brandon Curry joined by reigning 212 Olympia champion Kamal Elgargni to support Unique Potential, a Yorkshire based charity launched by fellow bodybuilder Derrick Clarke to support 18-25 year old men and women with physical and learning disabilities. 
We brought 7-time Mr Olympia Phil Heath to the Unique Potential charity back in the summer of 2019 and he, just like Brandon, thanked us for asking them to be involved. And of course they flat out refused to accept any fee whatsoever for their time. Kamal too. It's really reassuring to know that the sport of bodybuilding is represented by such thoughtful champions that really want to have their name and global influence attached to such worthy causes.
The first Olympia All-Star Tour 2020 will be a milestone in presenting the ethos of what it is to be the very best in the World so they can positively influence and connect with as many bodybuilding and fitness enthusiasts as possible. So, for this first outing, Brandon Curry will be travelling to the UK for 4 days, then a quick 2-day tour of Portugal and Spain. We hope that this tour will be the first of many around the World so everyone can see just what it takes to be a true champion in every sense of the word.